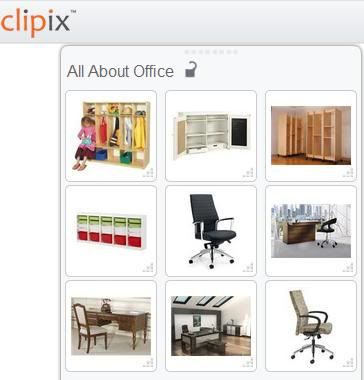 Few years ago a friend of mine encourage me to open a store online. I was so excited to start my store and tried to find a little capital to start with. Hubby loan me the money and I search online where i can buy wholesale products and resale it online. There are many things to do when you start a business. I search the competitor's sites and i did found many of them. So i tried to evaluate my price from theirs and start selling. Now what i need is a studio where i can work and put all my products in one place. To tell you the truth I am not a very good organizer. Good enough I found clipix where your organize life is much more easier. Why i say that? Clipix is where you can put all together things in  one place just like the above board.
Clipix is very easy to use. First you need to click the link above to sign up then watch the video below to really understand what to do.
I am a member already at Clipix and i enjoyed clipping and organize an office furniture. I found some things that i need in having a studio. I am planning to redo my studio since my store online grows every day.  It is easy to clip those things that you like in Clipix just bookmark the clipix and you are ready to clip. What are you waiting for visit the clipix site and enjoy organizing your life.
Promoted Post